When I started working for an international company it was then I got to meet people from different walks of life. Blogging gave me more opportunity to socialize. From simple to special gatherings as well as romantic events.
Wine Appreciation Night at Spiral
I've attended several wine tasting events in the past. The most recent was at the
Titania Wine Cellar
along Makati where the owner gladly taught us basic information about wine. Last year, we were at
Planet Grapes
where interesting
quirky wine vending machine
and the "
wine meets street food
" was the concept.
Hidden, one of Spiral's Private Dining Room
The long table inside the Hidden Room
The most recent wine tasting session was held in
one of the six lovely private dining rooms
of
Spiral in Sofitel Manila
. If you read my blog, you know I'm friends with Sofitel (click here and read my
Sofitel Honeymoon Staycation
). We were welcomed by
Damien Marchenay, Director of Food and Beverage
and
Matthieu Chapius, Assistant F&B Manager
. Next thing, we were given a list of wines for tasting - 10 wines to be exact.
I have practically no experience with
French wines
so I would just share few information I learned during this session. They set-up tables lined with clean
wine glasses
at selected dining ateliers making it more easy for us to understand wine and food pairing.
Sofitel-Manila-Wine-Tasting
Japanese-Wine at SPIRAL Manila
Led by
Tanguy Gras
, the tour started at the
Japanese atelier
, where
Sake
or
Japanese wines
were displayed and ready for tasting.
Japanese wine goes well with sushi and sashimi.
He said it's also great when paired with
bluecheese from Davao
.
Sushi and Sashimi at SPIRAL
At the Western Ateliers: William Fevre, Bouchard Pere & Fils, Dourthe No. 1
SPIRAL: Western Ateliers
William Fevre Chablis
has a very light yellow color. This wine has fruity taste and very light. It's pure and nicely balanced. This wine
goes well with fish and other seafood, white meat and pan-seared
Foie Gras
.
SPIRAL: Bouchard Pere, Fils "La Vignee" Pinot Noir
Next stage was the
Bouchard Pere and Fils "La Vignee" Pinot Noir.
The wine has a pale ruby color with ripe cherry and strawberry aromas. It's quite nice too and has good balance of structure and fruit. This wine is best paired with pizza, red meat and
light flavored cheeses.
L' Epicerie or Spiral's Cheese Room
Here's the famous
Cheese Room at Spiral,
the biggest cheeseroom inside a hotel in the Philippines.
From the French Stove
SPIRAL: Italian Pizza
We went to taste the
Dourthe No.1, A.O.C, Rouge, Bordeaux. Bordeaux
is famous in France. The wine is deep red in appearance with intense aroma of red berry fruits. I find it more acidic and has long flavourful finish.
Bordeaux
is best with any red meat, lamb, Spiral burger, cold cuts, potatoes and full flavored cheeses.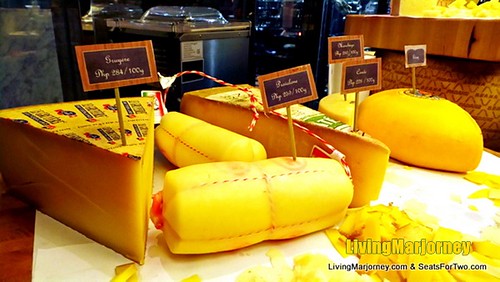 The famous Cheese Room in Spiral
Bread, Cheese and Cold Cuts
Asian Ateliers: Craggy Range, AIX Rose and Madfish Shiraz
Craggy Range: Sauvignon Blanc
Next in line:
Craggy Range: Sauvignon Blanc
which are
really nice, drinkable!
It has a pale straw color with green hues. It has a fresh aroma of jasmine, nectarine and lime and gives a rich flavor with a little acidity.
Meanwhile,
AIX Rose
has a pale salmon color and fruity flavors of watermelon with medium acidity. This wine is great when paired with garden vegetable and grilled meat.
Blogger Manila Jonel Uy at SPIRAL
Hubby holds three different sizes of
AIX wines
. This wine is very good with fish and dim sum, wanton soup and seafood.
Madfish Shiraz
Madfish Shiraz
from Australia has a lot of characteristics. It has a rich, dark, cherry red wine. It's a full-bodied wine with a smoky flavor. We where told it can be paired with
kare-kare and adobo
. Also with Hokien Mee, grilled pork or any red meat.
Dessert Ateliers: Hugel & Fils, Champagne Henriot
Gewurztraminer
has an attractive color, dry on the palate with rich aromatic finish. It's best paired with puto bumbong.
Spiral Wine Appreciation Night
Champagne Henriot
has light straw-gold appearance. It has fine, regular bubbles and gives a refreshingly finish marked by citrus fruity aromas. Champagne can be enjoyed with chocolate dessert.
Champagne
Finally, I have come to the wine I was looking forward to all night! For me, New Zealand's Sauvignon Blanc was the star of the night. I like the fresh fruity flavor on it. It was very nice, fruity and rich. Next is the Champagne, perhaps because it's easy to drink and goes well with dessert chocolates.
Local Wines
The
local wines
were all good especially the
Honey Fruit wine
with a taste and aroma of Guyabano fruit. It's sweet and has a white appearance. I like it and I recommend that you should try it!
The
Dragon Fruit
has a floral scent and pinkish in color. It has 5% alcohol. It goes well with dessert and blue cheese. Unlike other wine, it's easy to drink like fruit juice.
A treasure chest full of chocolates
A treasure chest full of chocolates
A treasure chest full of chocolates - truffles!
A treasure chest full of chocolates
Before the night ended, we give in to our own favorites from each of
Spiral 21 Ateliers
. Here are what I got that evening - sorbet, ice cream, nuts, dried fruits, variety of cakes and pastries and bibingka.
Spiral's Ice Cream and Sorbet sprinkled with nuts
heavenly dessert section
Chocolates, cake, pichi-pichi and bibingka on my plate
Tasty Bibingka
Of course, I wouldn't want to miss our favorite
bibingka
! It's the best bibingka we ever had! I'm so delighted that it never change, I mean the taste and consistency. Still, the softest and delicious bibingka for us!
For the first time, I had buttery, soft, lip-smacking
foie gras
.
That night, I had a lot from the
French stove
. I had the ever delicious,
creamy potato gratin
. Some slices of salmon and lobster.
Salmon, lobster, pizza
As always, Spiral's buffet spread and wine collection did not disappoint. The buffet section remains spotless clean and spacious, guest comfortably move to get food from one section to another.
End of the day, it was a wonderful night of tasting, food and great stories also an intimate acquaintance with wine connoisseurs at Spiral. Cheers!
Dine at Spiral/Operating Hours and Rates:
Breakfast (Daily) 6:30 am - 10:30 am
Lunch (Mon-Sat) 12 noon - 2:30 pm
Brunch (Sunday) 12 noon - 3:00 pm
Dinner Sunday-Thursday) 6:30 pm - 10:30 pm
Dinner (Friday & Saturday) – 6pm – 10:30pm
Supper at La Veranda: 11 pm to 3 am
Visit Sofitel Manila's website,
www.sofitelmanila.com and Spiral Manila